September 18, 2018
Potential Solution for Adding New Rental Stock in Vancouver
The lack of housing supply has been a major problem in Vancouver. Population continues to climb because people around the world consider Vancouver as one of the best places to live. In a city dominated by single detached homes, the local government is being innovative to create a temporary policy to address the shortage of rental apartments in the city through Vancouver zoning and rental housing policy.
Affordable Housing Interim Rezoning Policy
Under this new interim policy, the city would consider approving any single-family lots consolidation on the arterial road into to mid-rise rental apartment buildings. If the assembled sites are within city's official community plan, the site vendors usually anticipate and demand a substantial lift in land value; as a result, developers have no incentive to develop housing in an affordable housing form.
A rental proposal only works if the land is moderate in pricing, i.e. no additional density value contributes to the land. The developer could offer just a bit more than a single family value to make the rental housing proposal work.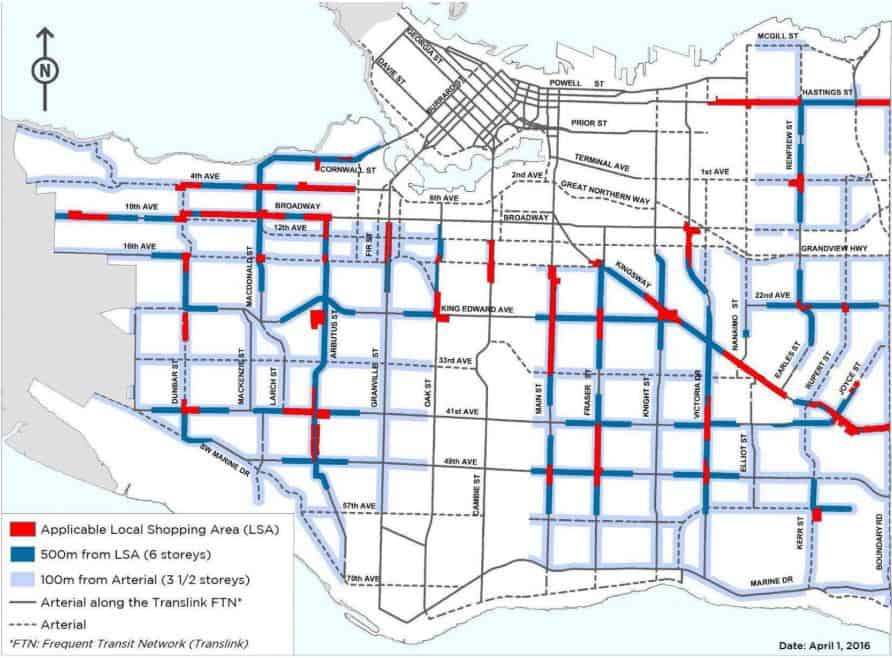 A Vancouver zoning application for 686 East 22nd Avenue, 3811—3833 Fraser Street and 579 E 23rd Avenue has been submitted to rezone by Strand Development to the City of Vancouver for review. The site is considered under the "Affordable Housing Choices Interim Rezoning Policy".
The "Affordable Housing Choices Interim Rezoning Policy" is specifically designed to provide more housing supply in Vancouver for those who are having a difficult time in search of a place to live. All units from this building are for rental. Under this policy, the government looks at three main factors before approving the application: Affordability, Location, and Form of Development.
The proposed building is facing Fraser Street, one of arterial road within the plan. it's within 500 meters from Local Shopping Area, the developer can build mid-rise forms up to 6 stories. Rezoning from RT-2 (Two-Family Dwelling) to CD-1 (Comprehensive Development), Strand Development planned the assembled site for 6 stories. Mixed-Use/Full Rental.
A total of 121 market rental units;
A total of 1,005 sq. m (10,818 sq. ft.) of retail space at grade;
A total floor space ratio (FSR) of 3.28;
A total floor area of 9,813 sq. m (105,626 sq. ft.);
A building height of 21.5 m (71 ft.);
Two levels of underground parking with 108 parking spaces; and
159 bicycle spaces.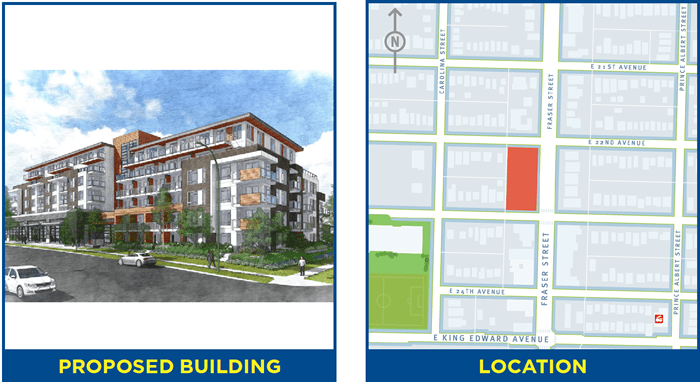 The site satisfies all three requirements and is very likely that the application will be approved for redevelopment. If this development passes the public hearing, it will set a precedent for the city and the development community to tackle affordable housing from a different perspective.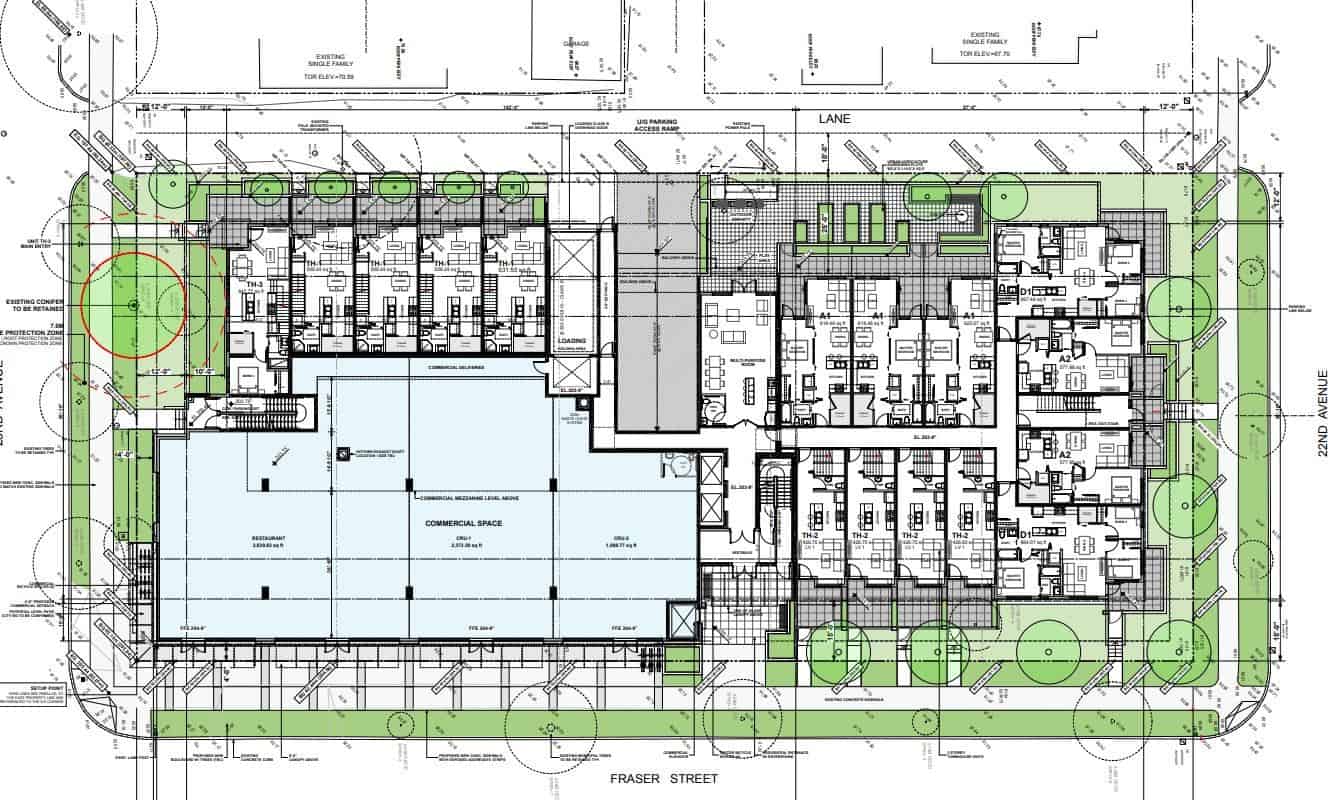 The Application has just completed the open house process, Covalent Advisory Group will continue to monitor and report on the progress of this Vancouver zoning application. During the open house, we observe a few concerns from the residences in the community. Most of the residences support the proposal, however, they demand a new OCP study and a more comprehensive approach instead of spot rezoning. By doing that, the site vendors could achieve a higher lift in land value which leads developer no incentive to do rental housing.
For our more marketing insight and trend please visit our Market Intelligent section to see our land assembly reports.
Reference
Development Application
Affordable Housing Interim Rezoning Policy