June 17, 2021
The city is taking parking fee to a new level by breaking the tradition of free residential street parking on non-major roads. Fortunately, the proposal is still in the planning stage and has not been approved as the date this article is written.
City of Vancouver calls this "overnight permit" which is required even for residents who lives on the block. An annual fee of $45 per year base fee is proposed. Does one permit allow all vehicle from the same detached home or is it a per car basis is unknown. The permit is required for street parking overnight between 10PM and 7AM.
For visitors, there is an option to pay with the "PaybyPhone" app or nearby meter for $3 per night. From 7AM to 10PM, it remains free of charge. If there are any other regulation in place, it overwrites the proposed policy.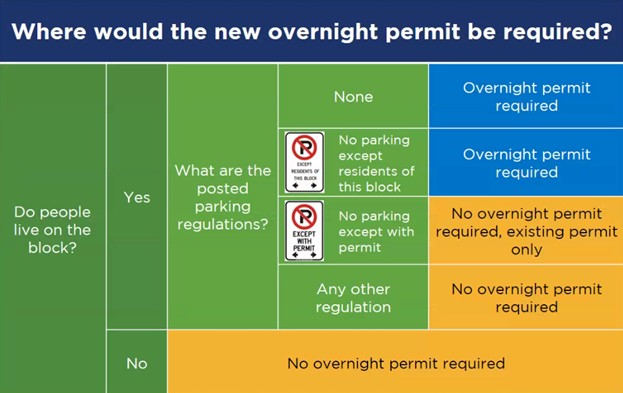 The attached image above explains in detail regarding when an overnight permit is required.
The new fee will be hard to swallow for the residents of Vancouver and we believe it is just another money grab by the government. It took parking to the extreme by making every street pay parking. The new policy is expected to generate over $60 million dollars in the next four years.
The money will be used to cover City Climate Emergency Action Plan including building more bicycle lane, sidewalk, and bus lanes.
The second bombshell the city dropped was a new pollution charge for purchasing gas-powered sport vehicle and small SUV of $500. Larger SUV and luxury sports car will be charged $1000 annually. The new fee is omitted for electric and hybrid vehicle.
We do prefer a "green city", but it is too soon to fade out the gas-powered vehicle as the electric infrastructure is not in place. We understand what direction the city is heading. The proposal will likely pass, but not without a fight.