British Columbia
Economy
Environment
Policy
November 18, 2020
Rising sea level becomes a major topic of discussion due to climate changes and the melting artic zones. As a costal province and within the earthquake zone, British Columbia should envision in a disaster situation. There was multiple earthquake (causes tsunami or flooding due to tectonic plate movements) warnings in the past, but nothing serious happened. We should still be aware of where we are and prepare for an emerging situation.
Research by from the City of Vancouver projects a 50cm of sea level rise over the next 30 years, one metre by 2100, and two metres by 2200. The rise of sea level could cause more intense and frequent flooding along the shoreline and Fraser River. It erodes beaches and destroy existing buildings and infrastructures.
If the sea level did rise according to projection, it will change the whole real estate situation in the area. Below is a map indicating where the flooding will occur according to the sea level projection. The area projects up to 2100. If by 2200 the sea level rise by another meter, more homes will be affected. Richmond is a totally different situation given that Richmond resident fled to Vancouver last time a major Earthquake was forecasted.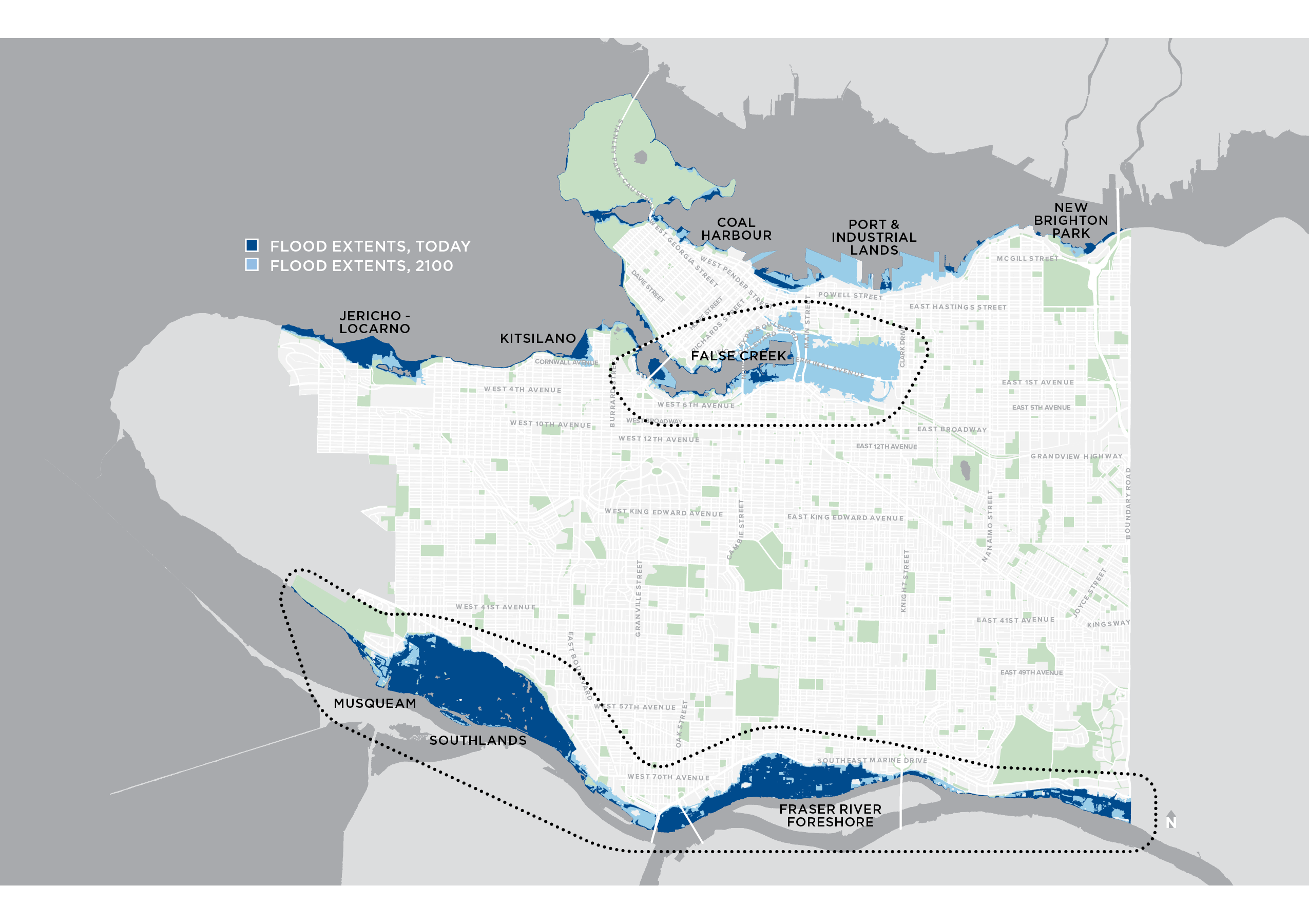 Referring to the map, majority of the industrial area along the Fraser River is already affected. Musqueam and Southland area where luxury homes are located.  The same goes for Jericho Beach and Kitsilano. It explains why Marpole Official Community Plan did not extends far out along the Fraser River.
If we look at the 2100 projections, Canada Place and Gastown are in danger. They are major revenue generating location for the province. Granville Island will be fully covered. An even bigger concern is False Creek. The potential flood map projection extends all the way beyond the Train station. It is also where future St Paul hospital will be located. Olympic Village, Science World and Rogers Arena are also in the flood zone.
If a flood does occur, our key infrastructure that supports our economic activity, transportation, and healthcare will take a major hit. The north false creek area is full of newly built high-rise towers by Concord Pacific as well. Insurance premium is likely to rise, land value will take a hit, and resident might lose amenities if a flood does occur.
The City of Vancouver is preparing for this unseen threat with False Creek Coastal Adaptation Plan. It is currently in discussion stage and will be diving deeper into the situation soon. Given the amount of natural disaster occurred in 2020. Let's hope nature will be nice to us until we're ready.