July 14, 2021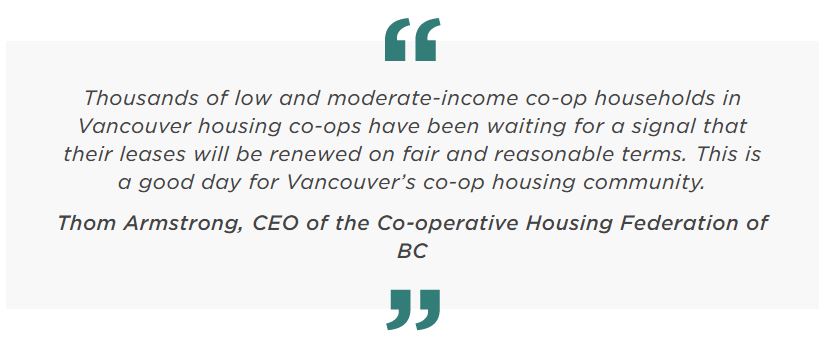 The City of Vancouver has been pressured to come up with new plan for Co-op housing in Vancouver as the first lease renewal is coming to end this October. Until a new agreement is renegotiated, many of the tenants who signed their leases during 1970s and early 80s were unsure if their lease can be renewed.
The City of Vancouver has proposed new framework for the lease. Co-op housing will continue to be affordable housing instead of market rental. This is great news amid covid when securing a home is very difficulty considering they are already in a co-op in the first place. According to Thom Armstrong, "the co-ops housing represents 25% of the city's entire non-market portfolio." The city owns more than half of it equating to a total of 3700 units.
Although it remains as affordable housing, the terms are still based on today's market. The tenant will still see a bump on their rent. The city made clear that no co-op members were going to be displaced and the building will be renewed in a financially sustainable way.
"The framework approved Thursday would allow for new leases where rents for higher-income co-op members would be set at 25 per cent of the median Vancouver renters' income, or 15 per cent below average area rents, whichever is less. And it would allow the city to offer subsidies for lower-income, rent guaranteed income units in co-ops, based on the benchmark of 30 per cent of household income. Both will require annual income testing"
"The city's goal was never to maximize revenue and it is not to maximize revenue," said Chungath, the city's director of operations for arts, culture and community services.
Chungath mentions they are working to propose additional co-op unit through densification or redevelopment. This will open to new opportunities for redevelopment incentive for developers if they participate in this co-op program.