Redevelopment Application
Vancouver
November 9, 2021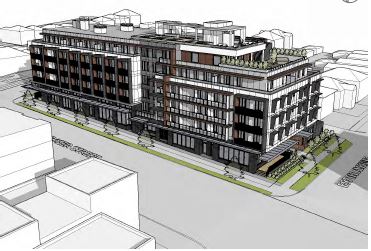 7280 Fraser Street, Vancouver
Transaction Price: $16,000,000 (December 13, 2018)
Price/Sqft: $630
Price/Buildable: $194
The purpose of this development is to provide a 6-storey building with 93-unit residential rental homes and commercial retail at-grade (7 CRU's), on this rezoned (CD) site. The market rental housing will be provided through the 'Affordable Housing Choices Interim Rezoning Policy.' This will be a very high performance, low energy building, built to the Passive House Standard.
The adjacent property at 724 East 56th Avenue will be developed simultaneously by the same owner (a separate Development Permit Application will be submitted shortly). This property was rezoned from RS-1 to provide a 3 storey 12-unit rental townhouse development.
These two properties are separated by the city lane. It is proposed that as part of this co -development and agreed to by the city (as per the rezoning conditions), that the main building at 7280 Fraser Street will accommodate the underground vehicle and bicycle parking and shared surface loading for the rental townhomes at 724 East 56th Avenue, accessed from the city lane.
Project Statistic:
A six-storey residential building
A total of 93 secured residential units; Seven commercial units
A maximum building height of 22.2 m (72.83 ft.) from grade
A total floor area of 7,630 m² (82,133 sq. ft.); 3.23 FSR
Two levels of underground parking with 73 residential parking spaces and 209 bike parking spaces
17 commercial retail parking spaces
Nine parking spaces and 28 bike parking spaces for 724 E 56th Ave are also located in the underground structure of this project