April 6, 2019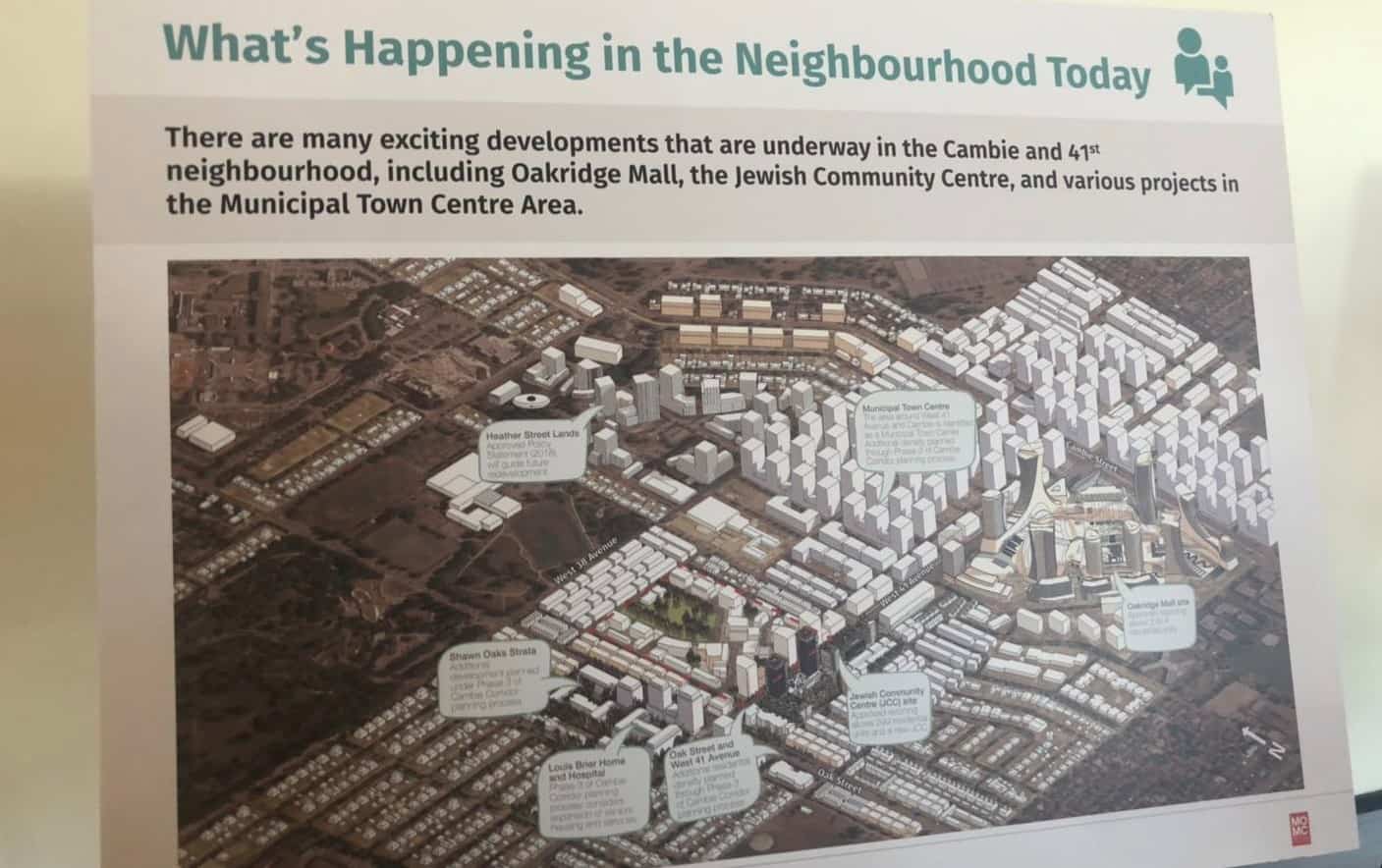 Oakridge Transit Center and Jewish Community Center Redevelopment Update
Modern Green Canada held an open house at VanDusen Botanical Garden on April 1, 2019, to update their proposal regarding Oakridge Transit Center Redevelopment. Modern Green Canada is planning to submit a formal rezoning application soon.
The Oakridge Transit Center site is a rare opportunity given its 13.8-acre land size at 949 West 41st Avenue close to the heart of Oakridge Municipal Town Center. It is planned to be redeveloped as a primarily residential community align with the Cambie Corridor Phase 3 Official Community Plan.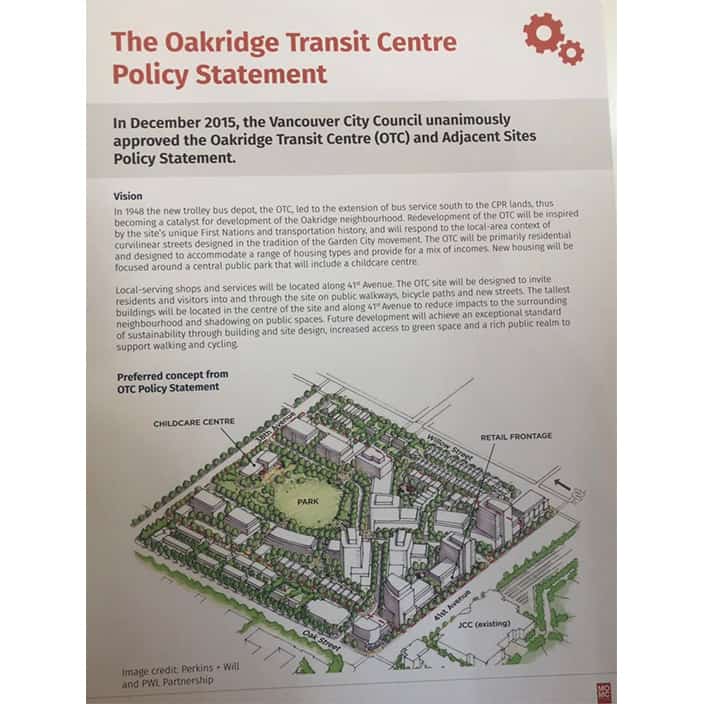 The design concept has changed since the original approved policy statement in 2015:
2.3 FSR (2.1 FSR in 2015 original policy statement)
2.3 acres of park and open space
Commercial & Retail Space
Childcare Spaces
Moderate-income rental housing (Approximately 140 homes) (No Rental housing in 2015 original policy statement)
More Social Housing (Approximately 285 homes) (250 homes in 2015 original policy statement)
Low-rise, mid-rise, and high-rise building form (low-rise and mid-rise form in 2015 original policy statement)
Two primary access point (One primary access point in 2015 original policy statement)
Cambie Corridor has evolved since 2015 and housing shortage in Vancouver is causing an increase in rent making living in Vancouver the second least affordable city in the world. The permitted height and density have increased well beyond that of 2015. "In addition, the sustainable large development policy was updated to require 10% affordable housing for all large sites, which includes the OTC site.". Modern Green is aware of the issue and proposed additional social housing to help with the affordability crisis in Vancouver.
As a result, the height of the multi-family residential buildings fronting West 41st Avenue has increased to 23 and 21 floors respectively with retail space at ground level. The Density has increased by 0.2 to create additional rental and social housing supply.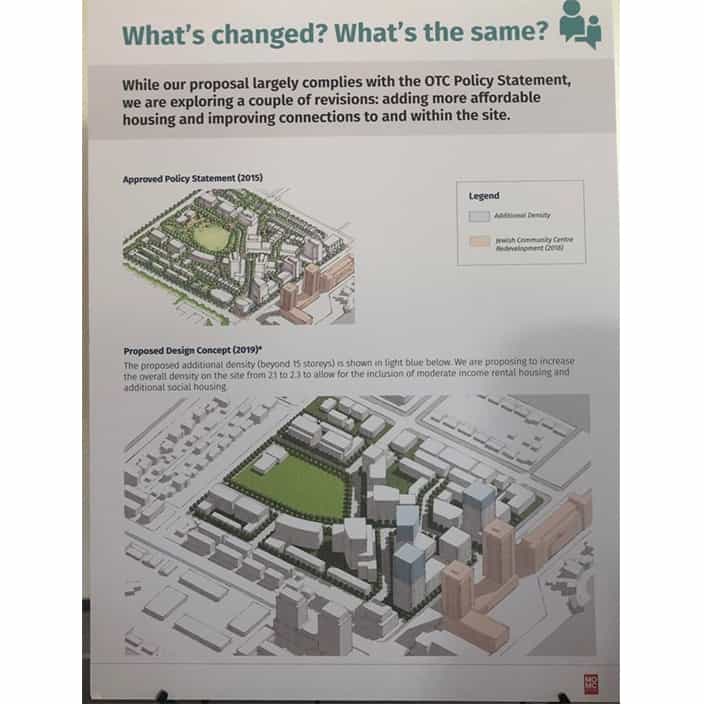 Modern Green Development purchased lots on Willow Street to open an access point connecting West 39th Ave as a primary entrance to deal with traffic concern. The Childcare/Park space in the center is open to the public. Additional B-Line and Bike Way is planned for West 41st Avenue by the City of Vancouver to support a greener living environment.
While 5690 Oak Street and 809 West 41st Street is part of the Oakridge Transit Center under the Cambie Corridor Phase 3 Plan, the two sites are not part of Modern Green's Proposal. However, it will be part of the site plan to ensure future development is aligned with the Oakridge Transit Center Guideline when redevelopment in the future. We strongly believe the two sites have a mixed-use 8-storey potential.
The Oakridge Transit Center site is expected to begin in 2 years time as it is in the rezoning application phase. Phase one of the development will be the high-rises fronting West 41st. It is where rental and social housing are expected to be in order to help with Vancouver's current market situation. The landscape and building form will align with the recently announced Jewish Community Center (JCC) redevelopment.


Jewish Community Center is redeveloping to increases its overall capacity and provide additional residential units. A 9-storey replacement Jewish Community Center will have recreational space, ground-level commercial space, cultural arts, auditorium, theatre space, non-profit office space, Childhood education center, and private daycare. The residential component including a 26-storey and 24-storey building above the podium, 299 residential units provided through community land trust.
Increase in maximum building height from 80 m (263 ft.) to 84.8 m (279 ft.);
Increase from 160 to 299 residential units;
Increase from 693 to 783 vehicle parking spaces;
Increase in floor space ratio (FSR) from 4.47 to 4.59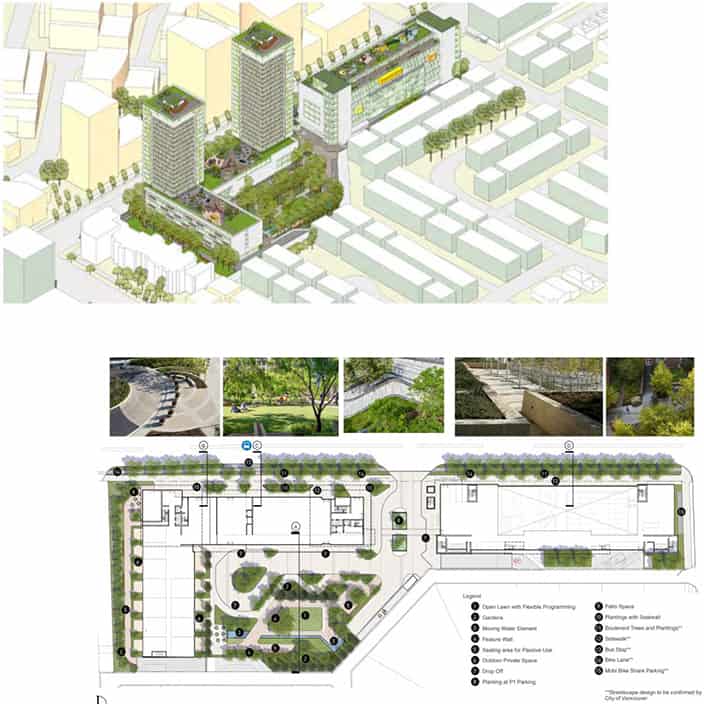 Oakridge Municipal Town Center is becoming more exciting as more redevelopment application and news surface. Developers, government, and the community is aware of the current market situation and are working together to solve the issue through creating more social, rental and market housing. We're working towards a great clause to create a better Vancouver.