British Columbia
Business
Community
Vancouver
April 26, 2021

Claridge Sponsored Pixels Moment movement to raise money for mental health supports at St. Paul's Hospital has officially went live! To date, Pixel Moment have achieved more than $360,000 dollars in donation. Located on 710 Granville Street (South East corner of Granville and West Georgia), the artwork comprised of 10,000 donated image which was pixelized to form a public art.
The creative project collects photo from donors who donated a minimum of $5 and the photo will become part of the 60ft by 40ft mural mosaic. With the latest AR technology, when you scan the mural with an AR compatible phone, the artwork will come to life with different movements and scroll to different artwork.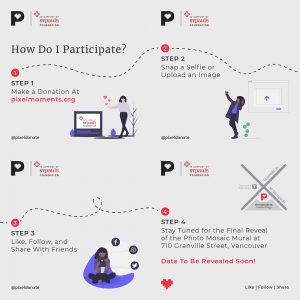 "By the age of 40, half of Canadians will have experienced a mental health issue. Mental health and substance use visits have increased by 76 per cent, and 70 per cent of patients treated by the mental health programs have both a mental health condition and substance use disorder," they write in the release."
We believe the project will attract many people and bring awareness to potential mental health risk. Raising donations for a great cause and help people become aware the risk and start preventing it early will help not only themselves, others and our medical system.
"Our goal is to inspire and engage with as many people as possible to show how small actions and donations as little as $5 are within their reach, and that together we can do our part," says Matt Illich, a member of the St. Paul's Future Leaders committee, in the release.