Redevelopment Application
December 10, 2021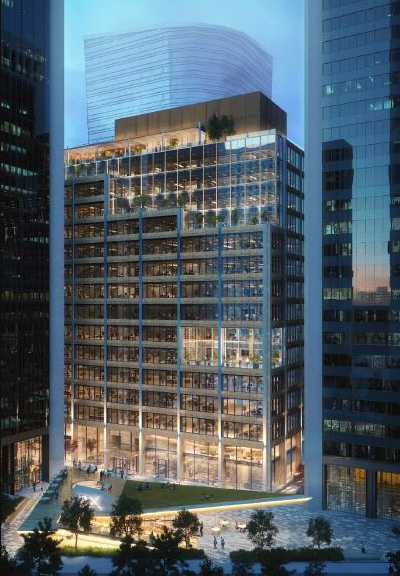 Developer: Hudson Pacific Properties
1025 Dunsmuir is a pioneering new building that will be integrated into the existing Bentall Centre complex, replacing the existing Thurlow Parkade at the corner of Thurlow and Eveleigh Streets.
1025 Dunsmuir is envisioned as a modern, loftlike structure with strong emphasis on light filled, healthy, biophilic environments, renewable resources, and minimized carbon footprints across all disciplines. At 260-feet tall, it provides unique, large floor plates, ranging from 27,700 to 30,425 GSF.
The building further distinguishes itself through extensive use of hybrid mass timber construction, reducing its embodied carbon relative to a comparable building of steel and concrete construction.
Retail spaces at the first two levels of the building and carefully considered landscape design, aim to activate more fully the corner of Thurlow and Eveleigh, while also increasing pedestrian accessibility, porosity through the site and increased connectivity to the surrounding neighbourhood.
Project Statistic:
A 16-storey Office Building
A one-storey retail pavilion
A maximum building height of 260'-0" from grade
A total floor area of 461,619 sq. ft.
Two levels of underground parking with 173 vehicle parking spaces & 273 bike parking spaces