rezoning application
Vancouver
January 26, 2022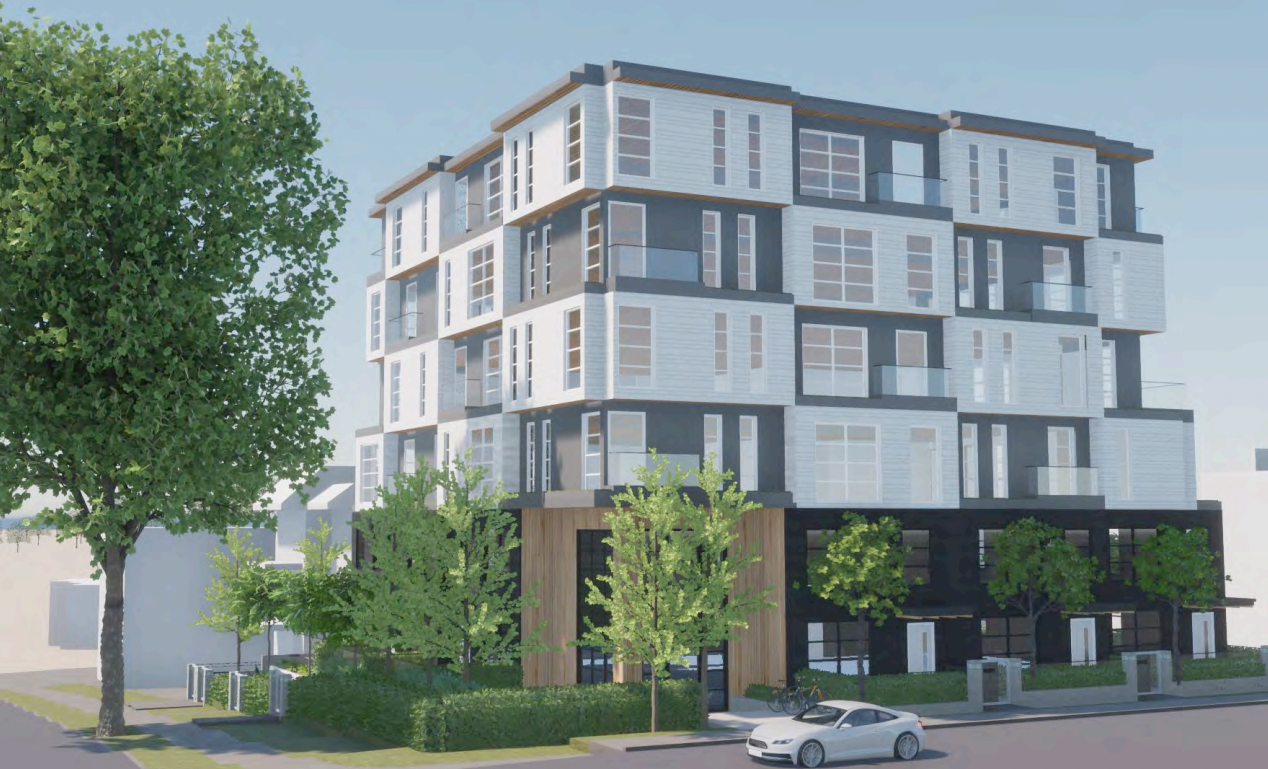 Site Area: 12,089 Sqft
Site Coverage: 5,419 Sqft
Current Zoning: RM-3A
Proposed Zoning: CD-1
FSR: 2.40
Potential Buildable: 29,014 Sqft
The proposal is to rezone the site at 103-111 N Templeton Dr + 2185 Oxford St. from RM-3 site to CD-1 in order to accommodate a 36-unit family oriented development with a density of 2.40 FSR. The proposed building consists of a total of 23 bachelor/one-bedroom units, 9 two bedroom units, and 4 three bedroom units. On the main floor there are 8 townhouse units, (3 of which are 3 bedrooms with the remaining 5 being 2 bedroom). The proposed building is approximately 69' 5" in height measured from existing adjacent grade. 16 off-street parking spaces are proposed which will be located in an underground parkade accessed from the north side of the site. 68 off street Class A bicycle parking spots are provided within two secure bicycle rooms.
The current lot measure approximately 98' 11" x 122' 2" combined, yielding a total site area of 12,088.85 sq.ft. It is a corner lot on Templeton Drive and Oxford street. The site slopes from North to South dropping approximately 2 meters in elevation from the back of the proposed building to the front.
The general neighborhood character of Cedar Cove is multi-family residential with many parks. Immediately surrounding the subject lot are predominately multi-family residential and single-family residential unit projects. One block to the east is Oxford Park and 6 blocks to the south is Pandora Park providing immediate access to public outdoor spaces. There is also a commercial shopping node along Dundas Street 3 blocks to the southwest.
The property is nearby transit stops and bus lines that run continuously towards downtown directly along Dundas St. which changes into Powell St.
Project Statistic:
36 secured market rental units
A floor space ratio (FSR) of 2.4
A gross floor area of 2,695 sq. m (29,013 sq. ft.)
A building height of 21.2 m (70 ft.)
18 vehicle parking spaces and 68 bicycle parking spaces