rezoning application
Vancouver
April 21, 2021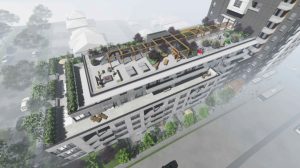 Site Area: 35,286 Sqft
FSR: 4.08
A rezoning application for 2406-2484 Renfrew Street had been submitted to allow for the development of a 12-storey mixed-use building. The zoning would change from C-1 (Commercial) and RS-1 (Residential) District to CD-1 (Comprehensive Development) District.
The site is located near East Broadway and Renfrew, 5 minutes away from Renfrew Skytrain Station. The neighbourhood is dominated by detached home on large lands that are suitable for redevelopment. Nearby amenities include supermarket, transit, shopping, and work opportunities makes this location ideal for living. The iconic Broadway Tech Centre is in proximity.
The redevelopment features 173 secured rental units with commercial space at grade. It provides housing opportunities for new graduates and moderate-income households who value convenience and relies on transit as their main form of transportation.
Site Statistic:
173 secured rental housing units (with a minimum 20% of residential floor area secured for moderate income households)
commercial retail space at grade
a floor space ratio (FSR) of 4.08
a floor area of 13,390 sq. m (144,132 sq. ft.)
a building height of 44 m (145 ft.)
130 vehicle parking spaces and 322 bicycle parking spaces